Car Maintenance Schedule

When you're attempting to service your vehicle after constant trips around Terrell, Rowlett, and Wylie, it's good to know exactly what your model needs and when it should visit the shop. To help with this, Rockwall CDJR has created an overarching car maintenance schedule to serve as an outline.
Specific models require specific attention, yet each vehicle has standard care and repairs it will need throughout its life. We'll be hitting on many of the key services your car requires in the coming article, such as oil changes, tire rotations, and many more.
About Every 5,000-7,500 Miles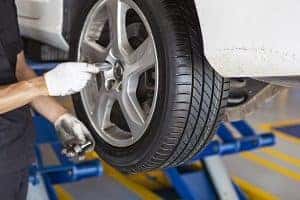 Service is a recurring necessity that will keep your vehicle running its very best well into old age. Some regular services are required between the 5,000-7,500 mile range. If your vehicle is a high-performance model, a truck tasked with hauling heavy payload, or if you find yourself in day-to-day standstill traffic, lean towards the 5,000-mile marker rather than putting the services off.
The services required at this stage include:
Oil filter change
Tire rotation
About Every 15,000-20,000 Miles
As you begin to stack a few more miles on your vehicle, you'll find it necessary to step back into the shop for an assortment of different services. These would include:
Air filter replacement
Fuel filter replacement
Brake pads/rotor replacement
Again, your surrounding conditions will affect these numbers. If you drive in a hot, dusty area, for example, the air filter and fuel filter will need regular attention. Or, if you brake enthusiastically during spirited driving and place a strain on your brakes, you may want the pads swapped out more often.
About Every 45,000-55,000 Miles
Once you start hovering around 50,000 miles with your car, you'll find that a crop of new procedures pops up. Each one is designed to help your model run smoothly for another 50,000 miles.
Similar variables discussed in the previous two sections will come into play when determining whether you should stop in at 45,000 or 55,000 miles. The services themselves include:
Battery replacement
Bleeding your brake fluid and swapping in new fluid
Replace brake pads/shoes
Replace coolant
Replace transmission fluid
About Every 75,000-90,000 Miles
Lastly, when you begin to reach the 75,000-mile mark or even approach six digits on the odometer, you'll want to stop back in for some thorough service. Cars can certainly run beyond 100,000 miles, sometimes even reaching twice that number, and service is the key to getting it there.
The requirements at this stage are model-dependent, yet a couple of the standard options include:
Replacing hoses
Replacing power steering fluid
Replacing spark plugs
Replacing ignition system
Replacing the timing belt
Keep Up with Your Cars Recommended Maintenance Schedule
No matter what type of model you drive, service is the key to lasting performance around Rockwall, Terrell, Rowlett, and Wylie. So, use this guide to understand when your vehicle should be brought into the shop.
If you have more questions or want access to a pristine service facility, contact Rockwall CDJR!