Spotlight: The Wood Shoppe

The Wood Shoppe is a locally owned workspace for designing and making unique wooden signs. But it won't be the local cabinet maker you hired last year fabricating your new sign; it will be you! With caring instructors and step-by-step guides, you won't need any prior experience before you hop on one of their work stools and get your creative brain moving.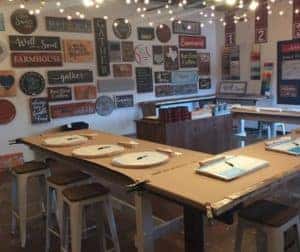 If you're wandering around the Rockwall area, stop by or call the Wood Shoppe to see what you can create.
The Process
The people who run the Wood Shoppe try to make the creative process as enjoyable as possible. So, they've streamlined the whole process right as you walk into the shop. After you let the team at Wood Shoppe know how many friends or family members will be joining you and you fill out their names, your party members get to choose their signs.
You have a few options to choose from—a smaller circular or rectangular sign, or a larger plank sign. Then, decide who you'd like to sit around and get ready for a 1.5-hour or 2.5-hour long class depending on which sign type you picked.
If you want to be a bit more involved in the sign making process, we suggest that you go for the larger sign option with the longer instructional class. Either way, you and your party are bound to have a fun experience.
Creativity & Community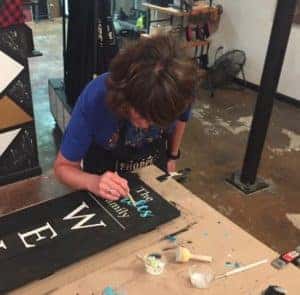 Let's say you can't make it down to the Wood Shoppe. Well, that's not a problem when they host private events and bring all of the necessary supplies to you. All you have to do to secure an event is fill out their online booking form to get in contact.
Enjoy Some Cathartic Step-by-Step Sign Making
We hope after reading about the Wood Shoppe that your inner creativity is flowing and you're ready to round up friends and family for a day or evening of fun making beautiful and built-to-last signs. Whether you want to simply paint a personal design on a smaller sign or get down and dirty crafting a larger sign, the Wood Shoppe has you covered.
It doesn't matter if you're local or just passing through—if you're around Fate, Heath, or Lavon, TX, check out what services the Wood Shoppe has to offer!
Be sure to take a look at their Facebook page for more information such as operating hours, private event hosting, and more.