How Often Should You Rotate Your Tires?

---
When you think of routine maintenance, your mind may immediately go to oil changes. While that's an important part of routine maintenance, tire rotations are as important. If you're wondering how often you should rotate your tires, Rockwall Chrysler Dodge Jeep Ram is here to help everyone in Rockwall, Terrell, Rowlett, and Wylie, TX, figure that out!
---
​
What are Tire Rotations?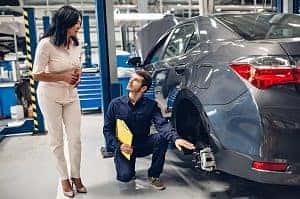 Tire rotations involve repositioning your vehicle's tires by moving them in different patterns. The purpose of this is to help your tires wear evenly, which keeps your car on the road and can potentially eliminate future tire issues. When your vehicle is in for a tire rotation, not only are the tires rotated, but they're also checked for damage, air pressure, and tread depth.
So, How Often Should Your Tires Be Rotated?
Now, the answer to the million-dollar question: You should rotate your vehicle's tires as recommended by the manufacturer. Usually, this means every 5,000 to 10,000 miles or so, but it depends on how often and how far you drive. In many cases, you'll have your tires rotated in conjunction with your oil changes.
When it comes to replacements, it will again depend on your driving habits, but you should expect to get a new set every three to five years, or roughly 60,000 miles. At most, however, you can go up to 10 years before needing to replace them.
Importance of Tire Rotations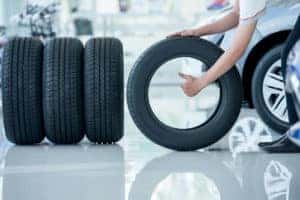 As you know, routine maintenance services, like tire rotations, are a key step to prolonging your vehicle's life. But do you know why? Let's take a deeper dive!
When you rotate your tires, you help to ensure that the treads wear evenly. This extends not only the life of your tires but of your vehicle as well. By rotating the tires, you're also making sure that traction and handling are consistent across all four of them. Additionally, this will help with cornering and braking performance.
Find the Tires You Need at Our Tire Shop
Do you need tires for your sedan, pickup truck, or SUV? You can find everything you need at our tire shop! Whether you're looking for all-season tires or tires for a specific environment, our tire experts will know how to match your ride with what it needs.
The best part is that you can have our certified technicians put your tires on for you when you purchase them, or you can take them home and do it yourself.
Tire Specials
We know that tires can get pricey, and one of our goals is to help area drivers save a little money. Throughout the year, you'll find various specials on our website, some of which can involve tires. If you need tire repairs or replacements, check back with our website to see what specials are being offered!
---
Rockwall CDJR Is Here for All Your Tire Needs
Whenever you need your tires rotated, repaired, or replaced, you can come to Rockwall CDJR near Rockwall, Terrell, Rowlett, and Wylie, Texas, where our technicians will be standing by to help! Reach out to us today to learn more.
---