Community Spotlight: Jump Into Art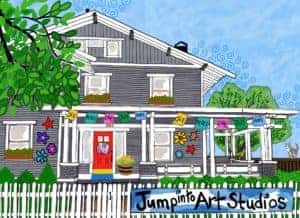 Whether for yourself, family, or friends, having a space for personal artistic expression is healthy for a multitude of reasons. These places are often judgement-free and fun, where you can learn new skills or simply mess around. It's even better when you can choose to just drop in an open studio with no session-long commitment.
With all of this in mind, we wanted to highlight Jump Into Art. They have proudly served the communities of Rockwall, Terrell, Rowlett, and Wylie, TX, for 15 years. When you walk into the studio, you can expect a welcoming and dedicated staff ready to explore any of your artistic inclinations.
Class Highlights
Jump Into Art's classes are split up among three main categories: Kids, Homeschool, and Adult. Youth—Kids and Homeschool—classes are semester-based and meet for about five months at a time. They're split into January-May and September-December sessions, meeting at numerous times with a minimum age requirement of 7 years. Classes range from painting and stitching to mosaics.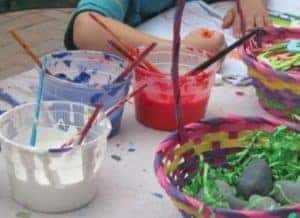 Adult classes include workshops, one-time classes, and semester-long sessions. Hop into Painting 101 to brush up on some old techniques or relax and enjoy a Collage & Stitching class. Some other workshops that the studio has offered are Cold Process Soap Making and Garden Art Technique painting.
Birthday Parties & Private Events
The studio's standard art party package includes room for 8 guests and two hours of instruction. If you have more guests, make a note of it in your deposit submission and Jump Into Art will contact you to smooth out the details. Of the many available projects, you can learn how to decorate a diary or journal, tie dye shirts, hand weave fabric, and try out the art of soapmaking.
How fun would it be to have a personalized art class in a historic 1915 craftsman-style building? Jump Into Art can accommodate various parties thanks to a spacious and fully stocked studio, a sizable kitchen, and engaging teachers. There's an abundance of parking and you can even make an event BYOB, responsibly of course.
Perhaps the best part is that you get to create art with friends and then take it home on the same day.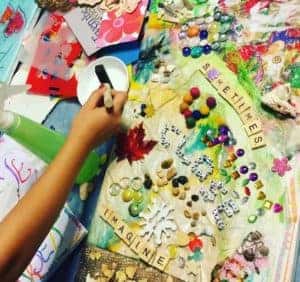 Open Studio/Art Drop In
Jump Into Art hosts a fully equipped open studio every Saturday from 10 a.m. to 2 p.m. While other studios might ask you to pay a premium to enjoy a few hours of craft making, these projects are fairly priced and include all needed supplies. There's no age restriction either and a number of different projects from which to choose, such as clay sculpture, collaging, painting on canvas, and sewing.
Take a trip to Jump Into Art Soon
As you can see, the artists at this studio value its name as an encouragement for anyone to come out and better themselves through creativity. Visit Jump Into Art's new location and join in a seasonal workshop or one of their 15 recurrent weekly classes around Rockwall, Terrell, Rowlett, and Wylie, TX.
Don't forget to check out the Jump Into Art Facebook page to keep up with events and organizational updates!