Ram 1500 Maintenance Schedule
---
When you're on the job around Rockwall, Terrell, and Rowlett, nothing's more important than uptime. Which means you need to stay updated on your truck's routine maintenance visits. To help Wylie area drivers like you know when they're due for service, our team at Rockwall CDJR put together this Ram 1500 maintenance schedule.
Give it a read and then contact us to schedule your service.
Listen to Your Oil Change Indicator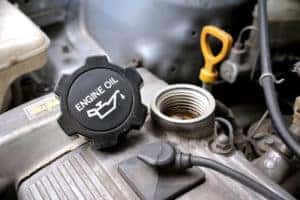 The Ram 1500 is equipped with an Oil Change Indicator. This is a smart sensor that analyzes a variety of factors—oil quality, engine size, fuel ethanol levels, and more—to determine when you're due for an oil change.
This interval will vary based on your model year, oil type and quality, and driving conditions. Your driving conditions may affect your oil change interval as so:
Light, everyday driving: 7,500-10,00 miles
Moderate conditions including light towing: 5,000-8,000 miles
Extreme conditions including off-roading or heavy towing: 3,000-5,000 miles
You'll know you're due because you'll see an orange box pop up on your driver dashboard that reads "OIL CHANGE REQUIRED." This will show at 15 percent oil life. If you see this indicator light, schedule service as soon as possible to avoid potential engine damage.
Never go longer than 10,000 miles or one year between oil change services.
At this time, you should also:
Change the oil and filter
Rotate the tires
Inspect the battery and clean the terminal
Inspect the brake pads, shoes, rotors, drums, and hoses
Inspect the engine cooling system
Inspect the exhaust system
Inspect the engine air cleaner
You'll only need to inspect the engine air cleaner if you're frequently driving in dusty or off-road conditions.
Every 20,000 Miles
Every time you hit a 20,000-mile marker, you'll want to take care of a few important items. First, inspect the front suspension. You should also inspect the brake linings and replace as necessary. Replace the cabin air filter as well.
Every 30,000 Miles
Every 30,000 miles, you'll need to inspect the front and rear axle surfaces. If you suspect a gear oil leakage, check the fluid level. If you use your Ram 1500 for police work, taxi driving, fleet services, off-roading, or frequent towing, change the axle fluid at this time.
These conditions also require you to inspect the transfer case fluid during the 30,000-mile maintenance visit.
Also make sure to replace the engine air filter and inspect the CV/Universal joints.
Every 60,000 Miles
In addition to completing your 20,000-mile and 30,000-mile visits, there are a few more maintenance items you'll want to do at 60,000 miles. This includes inspecting the transfer case fluid. Change it at this time if you use your truck for police, taxi, fleet, or frequent towing purposes.
100,000-Mile Maintenance
The 100,000-mile marker is a big one for your Ram 1500 pickup. At this point, you should do your 20,000-mile service. You should also replace the spark plugs and flush and replace your engine coolant. This needs to be done at 10 years or no later than 150,000 miles.
Also inspect and replace the PCV valve if necessary.
150,000 Miles
When you hit 150,000 miles, complete your 30,000-mile service visit. Also replace your engine coolant if you haven't already done so.
If equipped with Engine Stop/Start technology, replace the accessory drive belt with an OEM-grade Mopar® belt at this time. Also replace the transfer case fluid now.
Schedule Your Ram 1500 Maintenance Visit
If you're due for any of the maintenance markers we discussed here, visit Rockwall CDJR, serving the Terrell, Rowlett, and Wylie areas. We'll make sure that your Ram 1500 is in great health and ready to hit the road around the Rockwall area.
Contact us to schedule service today!
Dealer Info
Mon - Fri8:30 AM - 8:00 PM

Sat8:30 AM - 7:00 PM

SunClosed
Mon - Fri7:00 AM - 6:30 PM

Sat7:30 AM - 5:00 PM

SunClosed
Find Us