If you're on the hunt for a light-duty pickup truck that's both worksite- and weekend-ready, you've come to the right place! Both the Ram 1500 and the Chevy Silverado 1500 offer roomy interiors, powerful performance capabilities, and supportive technology features that you're bound to appreciate throughout your travels.

So, how will shoppers in Rockwall, Terrell, Rowlett, and Wylie be able to choose between these two impressive pickup trucks? Our team here at Rockwall CDJR hopes to help you do just that with our detailed comparison. Go ahead and read through the following information to see how the
Ram 1500
and the Chevy Silverado 1500 compare to one another when it comes to the vital categories of comfort, performance, and technology.
In the event that you come up with any questions that you would like a member of our team to answer for you, you can get ahold of us by reaching out via email, phone call, or simply paying us a visit in person. We'll be happy to provide you with an even closer look at both trucks.
Ram 1500 vs Silverado 1500: A Look at Interior Comfort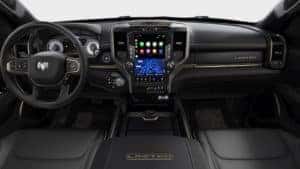 Making sure you and everyone else you have on board with you have plenty of room to move around and get comfortable is likely to be a pretty high priority for any vehicle search. Therefore, we've decided to begin this comparison by examining the interior dimensions that you'll find inside both trucks' cabins.
We'll begin by considering what the Ram 1500 has to offer within this area. In the front row, it supplies you and one of your passengers with 63.4 inches of hip room to appreciate. In the second row, the hip room also measures at an accommodating 63.4 inches. There are also 65.7 inches of shoulder room in the 1500's second row.
The Chevy Silverado 1500 doesn't offer quite as much wiggle room in these areas. Its first-row hip room only comes to 61.18 inches, and its second-row hip room and shoulder room measurements continue to fall short at 60.24 inches and 65.16 inches, respectively.
The Ram 1500 continues to outshine the Silverado 1500 in terms of comfort inside the cabin due to the fact that it's available with heated seats in both the front and rear seats. This enables all of its occupants to enjoy a comfortable driving experience from start to finish despite what the weather might be up to outside the vehicle. All the Chevy Silverado has to offer in this regard are available heated seats for you and your front-seat passenger.
‪Ram 1500 vs Silverado 1500: Spotlight on Towing and Payload Capacities
It doesn't matter if you're planning on taking advantage of your next pickup truck out on the campsite or the worksite, you want to be sure that it'll be able to handle every challenge you throw its way. The following towing and payload capacities will reveal which one will be more likely to have your back when the going gets tough.
The Ram 1500 allows you to make use of a maximum payload capacity that's just as formidable at 2,300 pounds. The Silverado 1500 doesn't deliver as hefty a performance here since its maximum payload capacity only supplies you with 2,250 pounds.
Ram 1500 vs Silverado 1500: Technology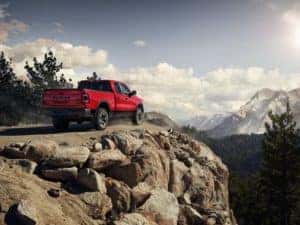 Inside the Ram 1500 and the Silverado 1500, you'll find some top-of-the-line technology features, starting with infotainment systems. These systems provide you with a large touchscreen display, hands-free wireless Bluetooth®, and smartphone app integration via Apple CarPlay®.
Both models also offer available turn-by-turn navigation. The Ram 1500 takes navigation to the next level, though, with the available SiriusXM® Traffic Plus and SiriusXM® Travel Link. These features give you real-time traffic and weather updates along your route while also keeping you up to date on your favorite sports teams, gas prices in the area, and much more. The Chevy Silverado is not available with the SiriusXM® Traffic Plus and Travel Link.
Other useful technology features that you'll find in the Ram 1500 include:
Standard Rain-Brake Support that gives you an extra hand by helping you come to a complete stop safely when the pavement is wet
Available Parallel and Perpendicular Park Assist that definitely helps out in the parking department
Available Power Adjustable Pedals with Memory that allow you to get into optimum position whenever you're in the driver's seat
The Chevy Silverado 1500 is not available with any of these useful technology features.
If it's important for you to have explosive entertainment, you'll be happy to know that both of these pickup trucks come standard with full-bodied audio systems that feature six quality speakers. For an effective boost in sound quality, the Ram 1500 is available with a 19-speaker Harman Kardon® Premium Audio System. Unfortunately, the maximum number of speakers that you'll get in the Chevy Silverado 1500 is six.
Ram 1500 vs Silverado 1500: The Verdict
As you can see from this detailed Ram 1500 vs. Chevy Silverado 1500 comparison, the Ram 1500 comes out on top in each of the above categories. You're officially invited to come get a closer look at this fully capable pickup truck to see for yourself what it can do for your overall driving experience.
Shoppers in Rockwall, Terrell, Rowlett, and Wylie are encouraged to give us a call here at Rockwall CDJR today to schedule a convenient time to take the Ram 1500 for a test drive!