Ram 1500 vs Toyota Tundra
If you're a driver in the area of Rockwall, Rowlett, Fate, and Heath, TX, you need a capable truck that's up for whatever challenge you throw its way. That's something you'll find in both the Ram 1500 and Toyota Tundra.

However, when the team at Dallas – Rockwall CDJR compared the
Ram 1500 vs. Toyota Tundra
and looked at them side-by-side, we found that one of these pickups offers more of what local drivers need from their next full-size pickup truck.
Below, you'll find our detailed comparison of the 2019 Ram 1500 with the 2019 Toyota Tundra. Read ahead to learn more about which one comes out on top when it comes to performance, capability, technology, and more!
Ram 1500 vs Toyota Tundra: Specs & Capabilities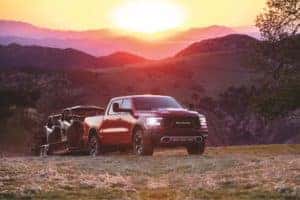 If you have a heavy load to tow, you can get it done with both the Ram 1500 and Toyota Tundra, each of which has a towing capacity of over 10,000 pounds. They also help keep your trailer steady with a standard trailer sway control feature. However, you can tow quite a bit more with the Ram 1500, which can haul up to a best-in-class V8 towing capacity of 12,750 pounds.1 The Toyota Tundra, on the other hand, can only tow up to 10,200 pounds.
With nearly 13,000 pounds of towing capability on your side, you'll be able to move all kinds of things with the Ram 1500 including:
All but the biggest and most lavish camping trailers
Large recreational boats for weekends on the lake
Hauling boxes for moving your race car to the track
Multi-horse trailers to move your animals safely
Flatbed trailers piled with mulch for DIY landscaping projects
Both trucks use a 5.7L engine to reach their maximum towing capacity. In the Tundra, this is a 5.7L i-FORCE V8 engine that generates 381 horsepower and 401 lb-ft of toque. The 5.7L HEMI® engine in the Ram 1500, on the other hand, produces 395 horsepower and 410 lb-ft of torque, which is likely why it can tow more than the Toyota Tundra can.
Payload & Cargo Area in the Ram 1500 & Toyota Tundra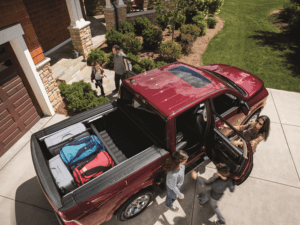 In addition to what they can pull behind them, the Ram 1500 and Toyota Tundra can carry a lot on their backs. In fact, they both make an approximately 6.5-foot box and an approximately 8-foot box available across various configurations. You can fill this space with a bit more when driving the Ram 1500, however, due to its higher payload capacity.
When properly equipped, the Ram 1500 can haul up to 2,300 pounds of payload weight in the bed of the truck.2 With the Toyota Tundra, you'll have to leave some things behind as this model can't handle more than 1,730 pounds of weight in the bed of the vehicle.
The Ram 1500 also has a few neat features that'll make hauling easy, starting with the RamBox® Cargo Management System. This box is located in the walls of the bed above the wheels. It's also lockable, illuminated, and includes a power outlet for operating tools on-the-go. Without a similar system, drivers of the Toyota Tundra will have to use up cabin space for their small, fragile, or valuable items.
The Ram 1500 also sports a first-of-its-kind multifunction tailgate which is split 60/40, so you can access the bed of the truck in a whole new way. The Tundra unfortunately doesn't offer a feature like this.
Ram vs Toyota: Interior Dimensions & Comfort
Both the 2019 Ram 1500 and the 2019 Toyota Tundra offer a spacious crew cab with seating for up to six passengers. However, only one of them offers an expansive amount of wiggle room for all five passengers. See which one it is below:
| | | |
| --- | --- | --- |
| | 2019 Ram 1500 | 2019 Toyota Tundra |
| Front-Row Headroom | 40.9 inches | 39.7 inches |
| Second-Row Headroom | 39.8 inches | 38.7 inches |
| First-Row Hip Room | 63.4 inches | 62.6 inches |
| Second-Row Legroom | 45.2 inches | 42.3 inches |
As you can see, the Ram 1500 prioritizes every passenger on board. The Tundra, on the other hand, squeezes second-row passengers a bit, so as to make front-row passengers a little more comfortable. With the Ram 1500, you won't have to argue about who gets to sit where, because all six seats offer plenty of room to spread out and get comfortable in.
Ram 1500 vs Toyota Tundra: Convenience Features
We know you're not afraid to work hard, but sometimes it's nice to have a truck that'll take on some of the hard stuff for you, isn't it? Luckily, the Ram 1500 and Toyota Tundra offer these kinds of convenience features. For example, they both make a trailer brake controller available. This system applies brakes to the trailer whenever you hit the brakes of your truck. This makes for safer hill descents and more efficient braking in general.
The Ram 1500 also offers an available 4-Corner Air Suspension System that lets you choose between various settings to improve performance. Choose Aero mode to lower your suspension and improve efficiency during highway driving, and then select Off-Road when it's time to tackle tough terrain.
This system also has an auto-leveling feature that'll counterbalance any extra weight from a trailer or heavy payload, allowing you to keep even from the front grille to the rear bumper. The Tundra doesn't offer a similar feature, so drivers may experience more wear and tear on their suspension from towing.
2019 Ram 1500 vs 2019 Toyota Tundra: Which One?
As you can see, the 2019 Ram 1500 and the 2019 Toyota Tundra offer some incredible features and capabilities. However, our extensive research and inspection of both models revealed that the Ram 1500 came out on top in every conceivable way.
But don't take our word for it! Get behind the wheel of the 2019 Ram 1500 and see for yourself how special this full-size pickup truck is. You can experience this vehicle firsthand with us at Dallas – Rockwall CDJR. Shoppers in the areas of Rockwall, Rowlett, Fate, and Heath can schedule a test drive in the Ram 1500 today by giving us a call!
1 Class based on Light-Duty pickups.
2 When properly equipped. See dealer for details.