Ram 1500 vs Toyota Tundra
If you're a driver in Fate and Heath, TX, you need a capable truck that's up for whatever challenge you throw its way. That's something you'll find in both the Ram 1500 and Toyota Tundra.
However, when the team at Rockwall CDJR compared the Ram 1500 vs. Toyota Tundra and looked at them side-by-side, we found that one of these pickups offers more of what Lavon area drivers need. Check out our comparison and learn how to get behind the wheel of our winner.
Ram 1500 vs Toyota Tundra Towing Capacity
If you have a heavy load to tow, you can get it done with both the Ram 1500 and Toyota Tundra, each of which has a towing capacity of over 10,000 pounds. They also help keep your trailer steady with a standard trailer sway control feature. However, you can tow a bit more with the Ram 1500, which can haul up to 10,620 pounds when properly equipped. The Toyota Tundra has a maximum capacity of 10,200 pounds. This difference may be due in part to the engine. Both trucks use a 5.7L engine to reach their maximum towing capacity. In the Tundra, this is a 5.7L i-FORCE V8 engine that generates 381 horsepower and 401 lb-ft of toque. The 5.7L HEMI® engine in the Ram 1500, on the other hand, produces 395 horsepower and 410 lb-ft of torque, which is likely why it can tow 420 pounds more than the Toyota Tundra can.
Payload and Cargo Area in the Ram 1500 and Toyota Tundra
In addition to what they can pull behind them, both the Ram 1500 and Toyota Tundra can carry a lot on their backs. In fact, they both make an approximately 6.5-foot box and an approximately 8-foot box available across various configurations. You can fill this space with a bit more when driving the Ram 1500, however, due to the 1,880-pound maximum payload capacity. The Toyota Tundra can carry 150 pounds less, with a maximum payload capacity of 1,730 pounds. The Ram 1500 also has a neat feature available called the RamBox® Cargo Management System. This box is located in the walls of the bed above the wheels. It's also lockable, illuminated, and includes a power outlet for operating tools on-the-go. Without a similar system, drivers of the Toyota Tundra will have to use up cabin space for their small, fragile, or valuable items.
Convenience Features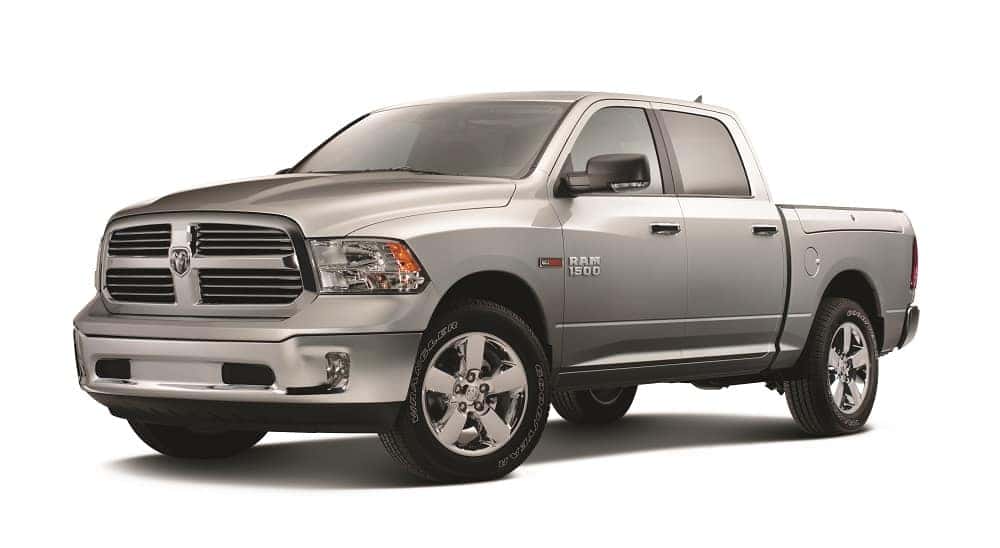 We know you're not afraid to work hard, but sometimes, it's nice to have a truck that'll take on some of the hard stuff for you, isn't it? Luckily, both the Ram 1500 and Toyota Tundra offer these kinds of convenience features. For example, they both make a trailer brake controller available. This system applies brakes to the trailer whenever you hit the brakes of your truck. This makes for safer hill descents and more efficient braking in general. The Ram 1500 also offers an available Four-Corner Air Suspension System that lets you choose between various settings to improve performance. Choose Aero mode to lower your suspension and improve efficiency during highway driving and then select Off-Road when it's time to tackle tough terrain. This system also has an auto-leveling feature that'll counterbalance any extra weight from a trailer or heavy payload, allowing you to keep rake even from the front grille to the rear bumper. The Tundra doesn't offer a similar feature, so drivers may experience more wear and tear on their suspension from towing.
Ram 1500 vs Toyota Tundra: Test Drive Our Winner
We compared the Ram 1500 vs. Toyota Tundra and found that the Ram 1500 has more to offer drivers around Lavon, Fate, and Heath, TX. If you want to give it a try for yourself, get behind the wheel by visiting Rockwall CDJR. Contact us to test drive the Ram 1500 today!
More From Rockwall CDJR
When you're on the hunt for your next new Chrysler, Dodge, Jeep, or Ram, researching the models you're interested in can be very helpful. At Rockwall CDJR, we make that process easy with our convenient library of car reviews.
Everything drivers near Lavon, Fate, and Heath need to get started on their research is here. If you have questions about any of our models or want to learn more about specific features, don't hesitate to contact us!

When you're looking for a new car in the Lavon, Fate, and Heath areas, you may find yourself wondering, "Where's the best car dealer near me?" Fear not: at Rockwall CDJR, you'll find a seemingly endless array of Chrysler, Dodge, Jeep, and Ram vehicles.
Read on for an overview of what we do here at our car dealership, and then click on the dealership article for your town or city for a more in-depth look!

Thinking about leasing your next vehicle? You've come to the right place! Leasing is an excellent option for shoppers in the areas of Lavon, Fate, and Heath, and we at Rockwall CDJR want to make the leasing process as easy and enjoyable as possible.