Signs You Need an Oil Change

One of the simplest and most effective ways to keep your vehicle running at peak performance is by scheduling to have its oil and filter changed every 3,000 to 5,000 miles. By doing so, you can greatly extend the life of your vehicle.
At Rockwall Chrysler Dodge Jeep Ram, our state-of-the-art service center is here to provide drivers throughout Rockwall, Terrell, Rowlett, and Wylie, TX, with honest and dependable care and get them quickly back on the road. If you can't remember the last time you had an oil change and filter replaced on your vehicle, continue reading to learn some important signs that it's time for an oil change.
Why You Need to Regularly Change Your Oil
Think of your engine as the heart of your vehicle. Inside your engine exists a complex system of moving parts, all working together to keep your vehicle in motion. Motor oil is like your vehicle's blood flow and is designed to lubricate these moving pieces and remove any dangerous particles.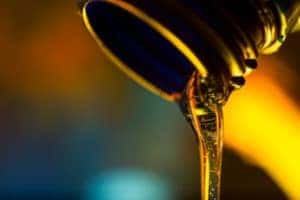 Over time, the oil inside your vehicle will get exposed to the several materials, such as air, moisture, and dirt particles, which will slowly begin to turn your oil into a thick, dark sludge. If not regularly replaced, this sludge can cause potentially serious and even irreversible damage to your engine.
However, with routine oil changes, your engine will remain healthy and stay in peak condition. Depending on how frequently you drive, though, you might need to bring your vehicle in before your scheduled maintenance appointment, so knowing some key warnings can be a big help.
Signs You Need an Oil Change
If your vehicle's oil is old or falls below the recommended level, your engine can quickly overheat and even seize. Don't worry, there are several easy signs to keep an eye out for, including:
Oil Change or Check Engine Light. This symbol appears on your dashboard and often looks like a dripping oil can. It'll flash and stay lit when a sensor in your vehicle's engine detects there's an issue. If it ever comes on, don't ignore it. Immediately schedule a service appointment to have it inspected.
Poor Fuel Efficiency. If you notice that on your normal commute you're going through a tank of gas quicker than usual, you might need an oil change. Old oil makes your engine work harder than normal, resulting in greater fuel consumption.
Dark Exhaust Smoke. Old oil isn't as effective at removing dangerous particles. This results in the engine burning the dirty particles and releasing them through your exhaust system. If you notice your vehicle is emitting a dark, smoky vapor, it's a good sign you need an oil change.
Decreased Acceleration or Performance. If while driving it takes your vehicle longer to reach highway speeds or it struggles when climbing up a steep hill, it's a good sign you need to schedule a service appointment.
Schedule an Oil Change Today!
Ignore routine maintenance at your own risk. At Rockwall CDJR, we're always here to help drivers throughout Rockwall, Terrell, Rowlett, and Wylie with all their automotive needs and questions. Simply stop in during service hours or schedule an online appointment today!