Sushi near Rockwall TX
In the last decade or so, sushi has risen to the top of the ranks as one of the most popular Asian dishes in the country. Sushi restaurants continue to pop up all over the area of Rockwall. However, three sushi restaurants rise above the rest.
On this page, you'll learn all about the three best sushi restaurants that the Rockwall area has to offer. Read ahead to learn more about Edo Japan Steak House & Sushi, Kyoto Japanese Steak House, and Sake Bomb Rockwall!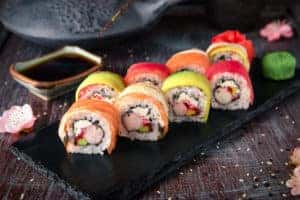 Edo Japan Steak House & Sushi goes the extra mile to provide delicious sushi options for every type of eater. Their expansive and all-encompassing sushi menu offers everything from classic rolls to no-rice rolls to unique dragon and volcano rolls. Whatever you're craving, the talented sushi chefs at Edo Japan Steak House & Sushi will be able to create something that you'll never forget. Make your meal all about sushi, or start with a sushi appetizer and round out your meal with hibachi noodles and fried rice.
At Kyoto Japanese Steak House, they're all about creating a dining experience that you'll remember. Whether you're having an interactive meal at one of their teppanyaki tables or want to have a quaint meal at the sushi bar, they'll get you set up. They have an expansive selection of cooked, raw, and signature sushi rolls, including the Spicy Cowboy Roll, which commemorates the community they serve.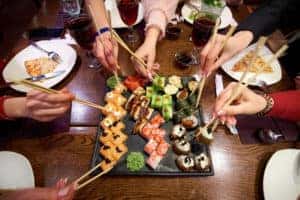 Sake Bomb Rockwall is committed to serving up a menu that showcases the many unique flavors and dishes that come from Japan and Thailand. Experience both in one unique meal from Sake Bomb Rockwall. Pair their Sake Bomb roll—which features yellow tail, crab mix, avocado, jalapenos, and several delicious sauces—with one of their delicious curry dishes like panang curry or musa-mun curry with peanuts, onions, and potatoes.
Enjoy Your Sushi in Rockwall!
Enjoy your fresh sushi from Edo Japan Steak House & Sushi, Kyoto Japanese Steak House, or Sake Bomb Rockwall!