Synthetic vs Conventional Oil Change

If you're a driver in the Rockwall, Terrell, Rowlett, and Wylie area, you likely have high standards when it comes to your car's performance. The oil you use in your car actually has a lot to do with how well it performs.
There are two types of motor oil, synthetic and conventional. Do you know which one is the optimal choice to use inside your engine? The experts here at Rockwall CDJR have come up with this comparison in order to help you make an informed decision between the two.
How Synthetic and Conventional Oils are Made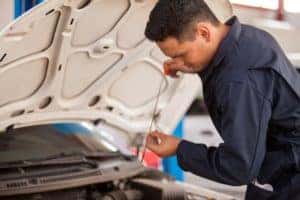 Synthetic and conventional oil both come from the same unrefined crude oil. This is where the similarities end, however. In the case of conventional oil, the original crude is refined and enriched using traditional means. With synthetic oil, the process is much different. It is specifically engineered for proficient use in your engine. This is accomplished by altering it on a molecular level using various chemical compounds in order to produce a product of higher quality.
What Synthetic Oil Can Do
Due to its chemically engineered makeup, synthetic oil is considerably more robust. This gives it several advantages. For one, it means that it can generally last longer than its traditional counterpart. While conventional oil has a lifespan of about 3,000 to 5,000 miles, synthetic oil can make it to anywhere between 6,000 and 7,500 miles.
Another main benefit of using synthetic oil is the fact that it can keep your engine cleaner. When oil ages, it starts to break down. When this occurs, it picks up any particles of dirt lying around inside your engine. Eventually, this will create a mass of sludge that can be quite damaging to your engine and cause it to shut down completely. Due to the synthetic oil's enhanced composition, the breaking down process is delayed and your engine stays significantly cleaner.
Synthetic oil is also more effective when it comes to withstanding adverse temperatures. From sweltering to frigid, it's just as reliable as it is during normal conditions.
The Benefits of Conventional Oil
Conventional oil is specifically designed for use in older vehicles. For instance, if you own a classic car, conventional oil is primarily suited to keep it primed and aging gracefully. Older cars, in general, are a better match for conventional oil. For additional support, special additives are available to boost conventional oil's performance in terms of standing up to extreme conditions and even lasting longer.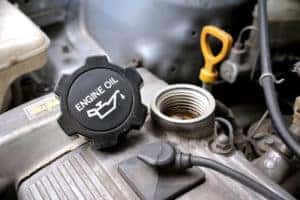 Furthermore, if your regular commutes are relatively short and don't create a lot of wear and tear on your engine, you shouldn't really need anything more than what conventional oil has to offer.
Schedule Your Next Oil Change with Us Today
If you'd like to know more about which type of oil is better for your car's performance on Rockwall, Terrell, Rowlett, and Wylie area roads or you would simply like to schedule your next oil change appointment, contact Rockwall CDJR to set up a good time for you.