Why Does My Car Shake When I Brake?

---
You have a busy life, and you rely on your car to get you where you need to go. Sometimes, though, something might feel off while driving, indicating that your vehicle needs some extra care to continue performing at its best. If your car is shaking when you press on the brakes and you're not sure why, the team at Rockwall Chrysler Dodge Jeep Ram (CDJR) is here to help.
We put together this quick guide to help Rockwall, Terrell, Rowlett, and Wylie, TX, drivers like you figure out why their car might shake when braking. You can learn more below, then schedule a service appointment online.
---
​
So, Why Is My Vehicle Shaking When I Brake?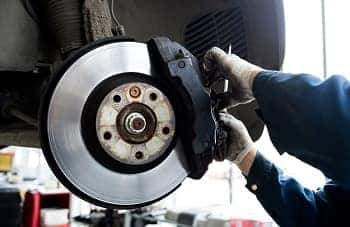 Picture it: As you approach a red light, you move your foot over and press on the brakes. You feel your entire car shake in your hands, and you know something is off. Why is your car shaking like that?
There are many possible reasons for a shaky car when the brake is engaged. Luckily, most of the issues are easily solvable in the hands of our trusted technicians, though you may want to know why the shaking is happening to begin with. Here are some of the possible reasons.
Unbalanced Brake Rotors
The most common cause of your car shaking while hitting the brake is due to warped, unbalanced rotors. Your brake system includes rotors—large metal discs located in the middle of your wheels—to ensure safe, timely braking. When you press on the brake, the brake pad will clamp the rotor and bring your car to a stop.
It's normal for your brake rotors to wear down with use, but a vibrating car while braking can be an obvious sign that they are due to be replaced.
Sticky Calipers
Another possibility for a shaking car while braking is sticky calipers. The calipers press the brake pad against the rotor using brake fluid to help your car come to a stop. Calipers are activated by this hydraulic pressure, and as your car ages, it's more likely that this system will weaken. If you feel the vibration mostly in the steering wheel, this is a sign of sticky calipers.
Worn Brake Pads
A shaking car can also be caused by worn down brake pads. As mentioned above, brake pads are an essential part of your braking system, as they press against the rotors to stop the car. Brake pad replacements are a common maintenance milestone, so it's possible that your vehicle could be due for this service.
Our Service Center Can Diagnose the Issue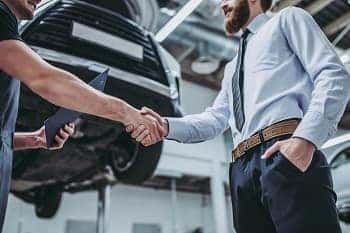 Whether your car has warped rotors, sticky calipers, worn down brake pads, or an entirely different issue, our highly trained technicians can help address the issue of your car shaking while braking. The state-of-the-art service center at Rockwall CDJR is equipped to take proper care of your vehicle, and our technicians are knowledgeable in all of these issues.
When you notice your car shaking, don't wait to get it taken care of. You can schedule your appointment using our handy online scheduling tool!



---
Schedule Service at Rockwall CDJR Today
If you notice your car begin to shake when you press on the brakes, our Rockwall CDJR team can help diagnose the issue and get you safely back on the road. Drivers like you around Rockwall, Terrell, Rowlett, and Wylie, Texas, can trust us for all their service needs.
---